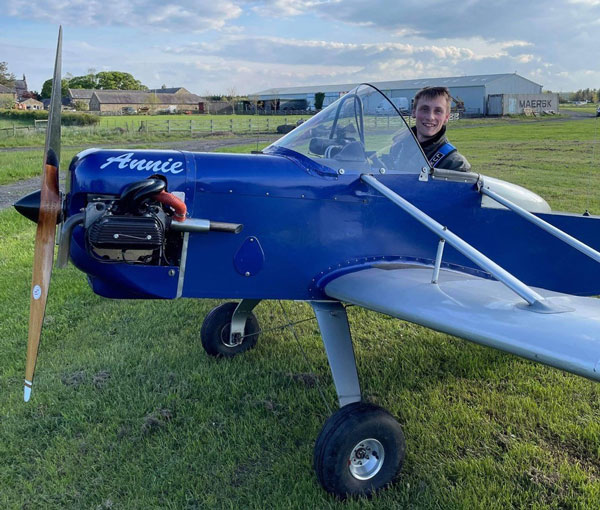 Report from David Curtis, the Liz Inwood Taildragger Scholarship 2020 Winner.
Thanks to the Vintage Aircraft Club, Liz Inwood tailwheel scholarship, I was able to complete a differences training allowing me to start flying some of the classic aircraft we have at Eshott, and hopefully soon my Evans Vp1 that I have been restoring. I spent a lot of time looking at places to carry out the training, and in the end came across the Tiger Club at Daymns Hall. The club solely operates tailwheel aircraft and has been training pilots to fly their Super cubs, Moths and Turbulents since 1957 so I thought this would be the perfect place to learn about tailwheel flying. Its also home to the Turb Team, so I could speak to people who really understand flying low powered, light weight Vw powered aircraft and adapt the training accordingly. I conducted my training on the clubs Piper Super cub with Andy, with only 90hp and no flaps it makes a great training aircraft. The first flight was learning the handling characteristics of the aircraft before coming back into the circuit for the real differences! Quite to my surprise my first two landings were perhaps some of my best to date, leading me to wonder if tailwheel flying wasnít as tricky as I was lead to believe. My third however, was quite a stark reminder to use my feet! Tailwheel flying seems to really highlight your weaknesses as any errors on landing are magnified, slightly too fast or too high a decent rate, the aircraft will be sure to let you know with a float or a bounce. Particular attention has to be paid to the crosswind too while taxiing and landing and remember to keep attentive controlling the airplane all the way to the tie downs. I thoroughly enjoyed flying the super cub and will definitely be back at the tiger club soon to work towards converting onto their tiger moths and hopefully their turbulents. Particular thanks to Andy for his excellent tuition. After a short wait due to miserable May, a break in weather meant for a good flying day. So After a thorough brief on the aircraft, I lined up runway 19 grass, and took off for the first time in a VP1, a small single seat open cockpit taildragger. The VP is quite a draggy airplane, so upon taking off I kept it in the ground effect until a bit faster than usual just to give myself a bit of margin for error, and climbed away to go and perform some general handling. The VP handles quite strange with an extremely powerful sensitive elevator yet heavy ineffective ailerons so coordinated rudder was really a must. After getting a feel for the controls, I took her up the Northumberland coast enjoying the wind rushing by and the beaches below however, in what felt like no time at all, it was time to come back and land. After a slightly longer than normal final, she was down in one piece and I was grinning ear to ear. I couldnít recommend open cockpit flying highly enough, it really is quite an incredible experience and one Iím very appreciative to the Vintage Aircraft Club for the Support. Not to mention particularly motivating to get my Veep finished!
The Vintage Aircraft Club was formed nearly fifty five years ago as a club for owners, pilots and enthusiasts of vintage and classic light aircraft. Currently the club has 350 members from across the UK and holds regular fly-ins, ground events and forums throughout the year. In common with many other aviation organisations the VAC is aware of a rapidly widening age gap within the membership. In order for the club to thrive and survive we are aware that we need to encourage and attract younger members to share our enthusiasm for flying vintage aircraft. It is also important that we pass on the skills to fly these aircraft which typically have the older type of conventional undercarriage Ė the taildraggers. For this reason the Taildragger Scholarship was set up by the Liz Inwood Trust along with the VAC and we are pleased to make this annual award available to qualified pilots, under 36 years old, with 100hrs or more enabling them to train for up to 5 hours at a recognised flying school. Each year the selection panel will chose one pilot out of the many applicants. The applicant must be the holder of a current PPL, NPPL or LAPL, with 100 hours total flying time of which at least 50 hours are as a pilot in command. The VACís annual award of up to £750 towards a taildragger conversion could help you realise your dream!
Applications for the 2021 Scholarship are now closed, but will re-open at the beginning of June 2022, so if you were unsuccessfull in 2021, you are welcome to apply by revisiting this page in June 2022.