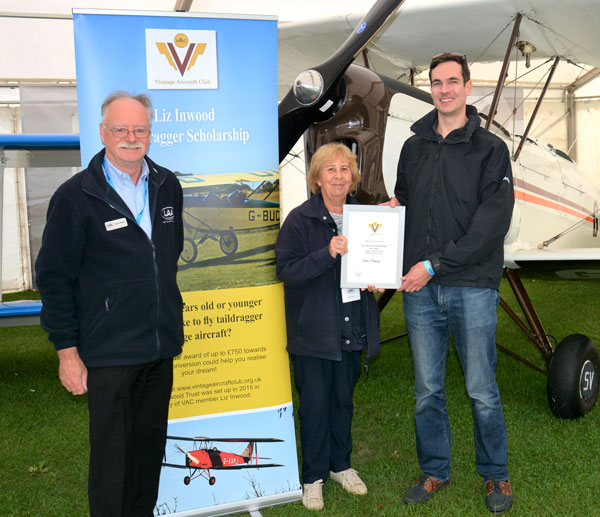 John Hardie is the Liz Inwood Taildragger Scholarship 2019 Winner.
The Vintage Aircraft Club is pleased to announce that the 2019 recipient of the Liz Inwood Taildragger Scholarship is John Hardie. The award was presented by Anne Hughes, VAC Chair, at the Light Aircraft Associationís Rally at Sywell on 1st September 2019. The Vintage Aircraft Clubís scholarship is awarded annually and is a contribution of £750 toward taildragger conversion.
Are you 35 years old or younger and would like to fly taildragger vintage aircraft? The VACís annual award of up to £750 towards a taildragger conversion could help you realise your dream!.
The applicant must be the holder of a current PPL, NPPL or LAPL, with 100 hours total flying time of which at least 50 hours are as a pilot in command.
All applications must be completed on the application form in pdf format below. If you wish to apply, please download the form onto your hard drive. You can do this by right clicking on the form when it opens in your web browser, and choosing the "Save as" option. If you try to fill out the form in the web browser, without using "Save as" to save a copy to your hard drive, it will not save your answers. Use Adobe Reader to type your answers into the text fields. (Note the character limit for each question!). Tip: If you use Word, or Open Office or similar to compose your answers, you can use their word and character count facility to check the length, then copy and paste into the application form fields. Save and e-mail the completed application form as an attachment to inwoodscholarship@vintageaircraftclub.org.uk, with the title "Liz Inwood Taildragger Flying Scholarship 2020" in the subject line. Please include in your email the contact details of two referees, one of whom should be your former flying instructor. It should arrive on or before the closing date of Wednesday 30th September 2020. You can also print out and post the completed form to The Vintage Aircraft Club at the address to be found at the bottom of this web page.
The selectors may contact you with further questions, and may request an interview (which could be by telephone) if necessary. The award will include aircraft hire and instructors costs only, it does not for example include any travel, accommodation or subsistence. The award will be paid to a suitable flying school agreed between the selection panel and the successful applicant. The successful recipient will be announced at the end of October 2020.