Vintage Aircraft Club Vice Chairman
Steve Slater now Vice Chairman
At the AGM on 17th October 2015, Peter Wright was confirmed as our new Chairman, with Steve Slater agreeing to take the postion of Vice Chairman, previously held by Peter.
Steve Slater
As of 15th July 2015, we have to congratulate Steve on his success at being appointed as the next CEO of the Light Aircraft Association. Full details can be found in the LAA press release, or visit the LAA website.
2011 saw the election of a new chairman following John Broad's decision to stand down.
Steve and his Tipsy Trainer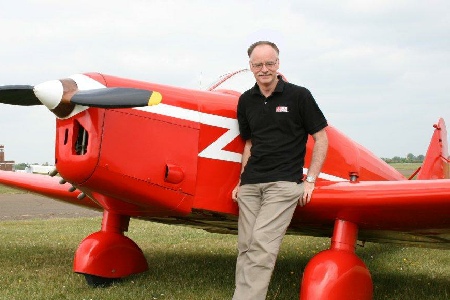 Steve, who is now the CEO of the Light Aircraft Association, was a motor race commentator and writer, and is a self-confessed fan of low and slow tail-draggers, having owned a VW-powered Luton Minor single seater, then a Hindustan Pushpak - an Indian built Aeronca. His current steed is the Tipsy Trainer G-AISA and he has also just finished restoring, with Matthew Boddington, the "Biggles Biplane" 1914 BE-2C replica.
Steve is keen that people don't just think of the Club as only for those who fly ancient or exotic machines. It is absolutely the contrary.
The best thing about our fly-ins is the sheer variety of aircraft says Steve. Visitors arrive in everything from homebuilts to classic Pipers and Cessnas, Jodels and Austers. The Club is as much about people as aeroplanes and we have got some of the best. That's what makes our fly-ins and events so much fun.